Financial advice is important at all stages of your life.  Whilst each generation has many differences, ultimately our financial goals will end the same, it's just the timing of the priority.
When clients see a financial adviser and are asked why they are seeking financial advice, many new clients will focus on generating wealth or planning for retirement.  It's key for the adviser to explore the client's financial goals.  Only then can a plan be considered on how to achieve the client's endpoint.  It's worth understanding that we are all different, there is no right or wrong answer, and the priorities of our goals will vary over our lifetime.
The Financial Planning Association of Australia prepared a document in 2016 entitled "Dare to Dream" and a part of the survey considered achievements and goals across generations.  Notwithstanding the impacts of Covid-19 on travel and people's work and health, much of the detail from 2016 remains apt today.
The report highlighted that whilst one in two Australians dreamt more about the future in 2016 compared to 2011, 63% had made "no plans" or "very loose plans" to practically achieve those dreams.
The survey considered the three main generations present in the workforce – Baby Boomers, Gen X and Gen Y.
Amazingly, when it came to identifying their "greatest achievement", the top two answers provided for every generation were overseas travel and buying their first home.  Gen Y also listed a new home as their top dream, reflecting that many had yet to achieve this, but when they did it was seen as a significant achievement.  Gen X still had a first home as their number 4 dream, whereas Boomers had moved to see new furniture for their home (already in ownership) as a higher dream.
All generations would love to travel as a short and long term goal, but only Gen X / Y credited living overseas for a period as a significant achievement, reflecting the change in dynamic and the opening of world travel and opportunities through the past 20 to 30 years.  Travel is not always the highest of priorities for many clients but does feature highly in goals requiring a lump sum allocation and perhaps the need for household budgeting to accomplish.
The goal of long term planning for retirement was common across all generations and early retirement could be seen as a focus area for both Gen X and the Boomers.  Not surprisingly, all generations saw saving money, repaying debt and buying a new car as high priority short term goals.  Saving money and repaying debt are great short term goals when targeting retirement wealth and early retirement.
Ultimately, the report highlighted that the goals for all 3 generations are largely the same, it's just the priority we allocate to them at each stage of our life that is different.  When considering your goals, make sure you target what is both important and realistic for you – your financial adviser is there to help you on your way.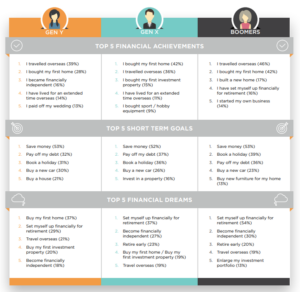 Source: FPA, "Dare to Dream", 2016.
Please note this article provides general advice only and has not taken your personal, business or financial circumstances into consideration. If you would like more tailored advice, please contact us today.